Home

/

Projecta Lithium Jump Starter & Powerbank 12V 900A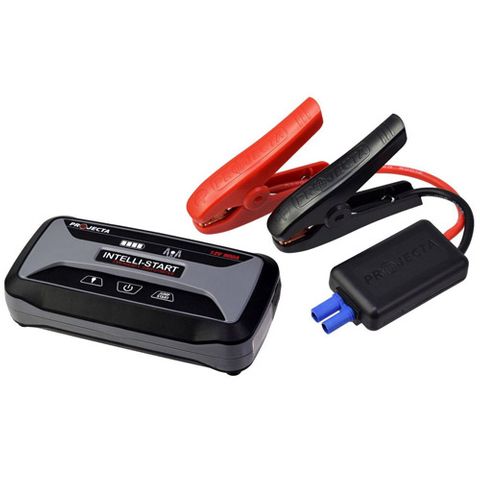 Projecta Lithium Jump Starter & Powerbank 12V 900A
The Intelli-Start IS910E portable jump starter from Projecta is the perfect size to keep stored in the glove compartment or centre console of your car. Don't let the super handy form-factor fool you, this little beast packs a peak of 900 amps, an internal battery of 6,600 mAh and is capable of jump starting petrol engines up to 6.0L which makes it ideal for boosting most petrol engines including thumping V8 street machines. With unparalleled safety, the internal 'smart module' makes this portable jumpstarter virtually fool-proof and won't cause damage to the unit, engine or user when jump starting. This jump starter doubles up as a portable power bank to charge all of your favourite USB devices on-the-go and also includes a handy built-in flood light torch which is ideal for inspecting under the bonnet before jump-starting, helping to change a tyre at night time or even navigating the campsite in the middle of the night.
Utilising the latest lithium battery technology, the Projecta Intelli-Start Lithium Jumpstarter range is ideal for emergencies on the roadside or workshop professionals alike. Lithium batteries offer the best of the best when it comes to energy density. Simply put, lithium batteries can be a fraction of the size of traditional batteries whilst still storing the same or more charging power. Lithium batteries can have up to 150 watt hours per kg, compared to traditional nickel-metal hydride batteries which generally come in at 60-70 watt hours per kg. This makes Projecta Jumpstarters ultra-compact and perfect to keep on hand at all times. Lithium batteries just like the ones in Projecta Jumper Packs have a low discharge rate when not in use, this makes them great to keep in the boot of the car or the garage shelf to be ready to jump-start your car without thinking about the battery pack being charged. Lithium batteries generally lose around 5% of charge per month, where as traditional batteries are closer to 20%.
Features
900A peak amps, 240A clamp power
Capable of starting most petrol engines up to 6.0L
6,600mAh lithium cobalt battery
IP52 (rain proof) with covers over ports
47mm (height) x 178mm (length) x 91mm (width)
Weight: 0.61kg
2.1A USB accessory port (power bank for portable devices, e.g. smartphones)
2 x 0.5W LED flood lights with SOS function
LED indicators for charge level/status
Customer Reviews and Ratings
No Reviews
Be the first to review this product!